Seoul Van Rental with Driver
Choose our Seoul van rental with driver services. Clean and reliable van rental with driver. Hassle free from driving in Seoul by hiring van rental with driver in Seoul. Relax and enjoy your trip in Seoul. Our Seoul van rental with driver service is relaxed way for your traveling in Seoul Korea.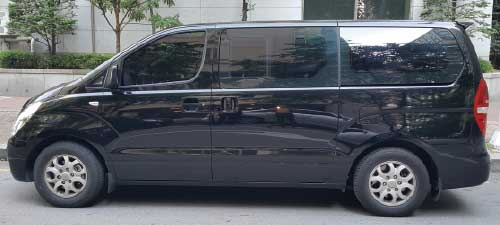 Seoul Van Rental with driver for 6 persons
Van has 7 seats + 2 folded passenger seats
except front row seats ( driver row seats )
Convenient up to 6 persons + 3 Check-in bags
Or
Maximum 7 persons with 7 hand carry bags.
Private Van Rental with driver
From Incheon airport to Seoul is about 60-90 km (depending on where in Seoul city) by car and it takes about 1 hour 30 min depends on the traffic on the road. Traffic hour is another factor to take more time to go to Seoul. Usually, we set the travel time for about 1 to 2 hours by considering traffic on the highway. On the weekend or some specific days, there is heavy traffic on the highway, in this case, travel time takes more than 2 hours exceptionally. Therefore, actual travel time takes longer than your easy calculation on hours to move. Our Seoul van rental with driver service makes car moving easy and simple for your quick transfer to Seoul city. Private van rental with driver service is the best way for your group transfer to Seoul city in Korea.
Pricing by your own itinerary
Van Rental with Driver in Seoul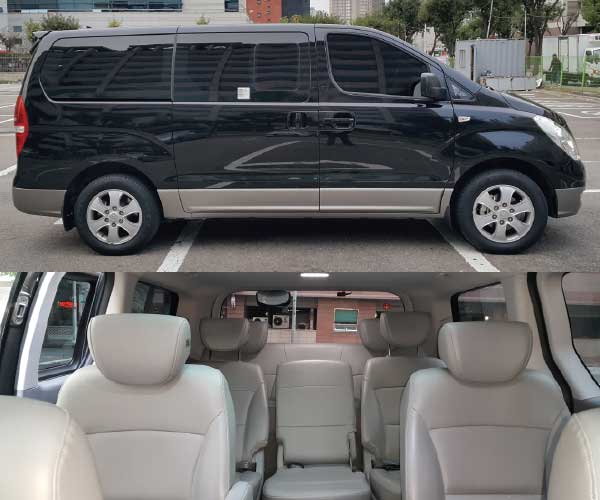 Seoul Van Rental with Driver
Premium Van Rental with driver.
Reliable and Safe.
All-inclusive rates.
No hidden charges, (we inform you all-inclusive price in advance).
We declare comprehensive rate including car, driver, fuel, toll, parking.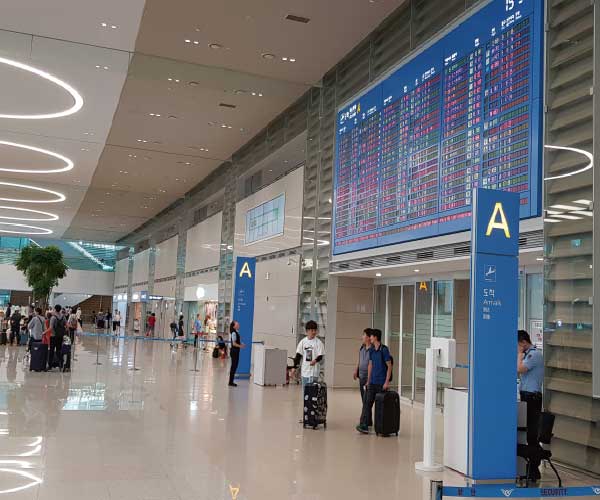 Incheon Airport Pickup Service
Your arrival to Seoul is what we are looking for to serve you.
FREE of charge for airport pickup
Complimentary wait time for airport pickup
– Up to 90 minutes after flight landed.
No hurry up and feel Relax to pass all airport procedures.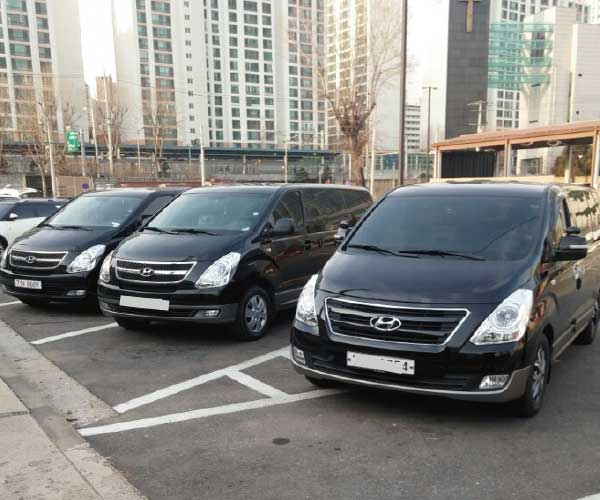 Chauffeur Van service in Seoul
Certified professional chauffeurs.
Licensed and insured professional drivers.
We deliver high quality cars and superb car service in Seoul.
Door-to-door service.
Our cars are in excellent condition and clean exterior and interior.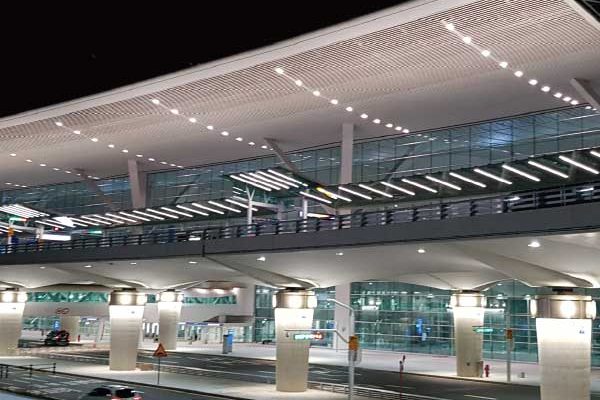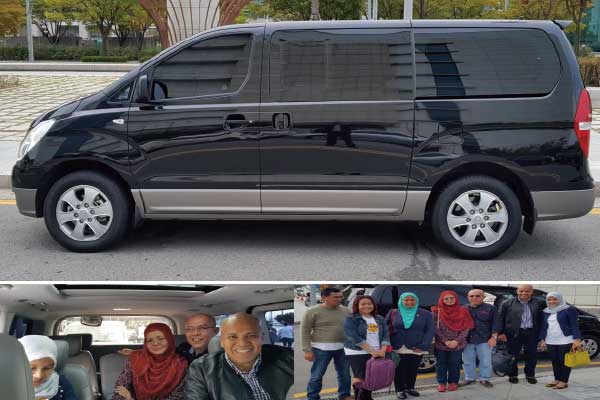 Email us –  Contact us for Seoul van rental with driver service by filling out below form
Please provide us your basic information on your demand from us. Due to the volume of emails, we only reply our valuable customer email only. We do not welcome any types of SPAM or similar types of email. We guarantee that all information given to us will never be resold or disclose with any 3rd party and it will be used for answering to your questions only. Your private information will delete from our server after completing our service related emails.  No further private information will kept in our server after completing necessary minimum communications.  All data will delete periodically twice a month from our server.
The more information you give us, the more faster and accurate information we can answer to your questions.
Instant Price Quote & Quick Book for Incheon Airport to Seoul Transfer OR Seoul to Incheon Airport transfer.
If you are looking for Quick Book between Incheon Airport and Seoul transfer, price quote and book can be done less than 1 minute by below 2 buttons.
Real Time Quote and Quick Book for moving from/to the Incheon Airport Transfer.
Charter van rental with driver  in Seoul
In conclusion, our chauffeur driven Seoul van rental with driver service is the best way to travel in Seoul by hiring Seoul van rental with driver.
We provide quality Seoul Van rental with driver service in Korea.
Our Van is all equipped with clean, navigator, air conditioned for your convenience.
Our modern and luxury van is the full-sized van with seating up to 7 passengers. We recommend this van for long lasting trip, group tour and long distance ground transportation. And also suitable for the executive level's business purpose trip.
Seoul van rental with driver offer your convenient for airport transfers, small group transfers , traveling any cities in Korea wherever you want to visit for your travel purpose.
You can hire our Seoul van rental with driver and chauffeured passenger van service in Korea, therefore you can get hassle free travel by our reliable transportation. We also partnered with seoul driver service company. 
This is best selectin for the passengers more than 3 and less than 5 persons with freight check-in bags together. Sure, the hand carry bags are also fine to load together. Our van is brand new car less than using one to two years maximum. We do not utilize old model van car for safety reasons for the passengers who are using our excellent car services. We don't downgrade the car quality and safety level just pursuing the lower price offer. It means we pursue the right class clients who are considering the proper level of service and we keep the safety always as priority.  Lowering a price by downgrade car quality, it never gives the benefit for the clients who are using our services.
Seoul VAN RENTAL with Driver 
We take pride in our friendly van rental with driver service in Seoul.
Our company is located about 5 miles to Incheon Airport.
All of our Seoul Van Rental are in new vehicles less than 2 years old and we utilize only for brand new van, not operating the old year cars.
Our van is available for the number of passengers of 6 and 13 persons.
Van for hire services for visitors to Seoul Korea who is coming from Seoul Incheon Airport or Gimpo airport arrival travelers.
Our Van rental services will make it easy for you to use a van or mini-van with driver.
Especially, we are focusing the van rental service who is arriving at Incheon airport, it is the easy starting point where to pickup and it can easily access to the Seoul city, or your wished location to visit in Korea any places.
We deliver highest quality vans and satisfaction level of service in terms of operation and car quality, professional and educated Korea drivers who can speak driving purpose level of English.
If you're going on a trip with a large group of friends or family, a passenger van rental from Seoul van rental with driver is the best and right choice for your group moving.
Our several types of van by chauffeur driven are good for your business trip, outdoor activities, sightseeing in Korea.
We know your expectation of service level, so we can surely meet your satisfaction for the level of service of car quality, class of cars, driver's professionalism.
We are sure to guarantee right vehicles, highest service level maintain, clear car, smoking fee car, and we ensure you your destination on time and in comfortable transportation with our TOP level of services.
VAN RENTAL with Driver in Seoul
There are several benefits for you to hire the van and driver in Seoul, Korea.
Easy and safe moving to Incheon airport or from the Incheon airport to Seoul city.
– Make moving around Korea easy and fast.
– Personal Driver Service in Korea, Seoul.
– Reduce Stress for driving in bad traffic in Seoul
– You can do emails and calls or nap during traffic time in Seoul.
– Easy and comfortable way to move in Korea for your business or tour
– Give your confidential and Private privacy.
– No worries for lost in the car, Return all for your lost in the car. We return all your belongings.
– Fixed rate, No hidden charge, Pre negotiated price only.
– Hassle free to find the location where you want to visit in Korea
– Eliminate stress how to go unfamiliar locations or where to park car
– Sit back and relax while our driver is servicing all for you as VIP.
– Seoul Van Rental will provide the competitive price.
Here are 3 different Seoul Incheon airport pickup service scenarios by pickup condition.
1.    Incheon Airport Terminal 1 pickup
2.    Incheon Airport Terminal 2 pickup
3.    Incheon Airport Gate pickup
With these 3 different pickup operations, you can meet the driver easily without any hurry or rush when you arrive in Incheon Seoul Airport.
Therefore, you can easily move from the Incheon Airport to your destination in Seoul, Korea.
It is very simple, easy and convenient way for your group moving without any troubles in the Incheon Airport.
We are always providing you the best convenient way by synchronizing with your arrival time and date when you come to Korea. We welcome your trip to Seoul Korea and you are sure to get the high level of Seoul car rental with driver service.